Radisson RED

Welcome to something new.
Radisson RED is a new hotel philosophy that connects with an ageless millennial mindset through art, music and fashion. Offering the freedom, flexibility and fun that the modern traveler demands, RED is about curating guest experiences that are engaging and authentic. Forget everything you thought you knew about hotels.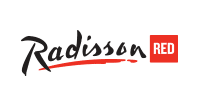 THE COUNTER-CULTURE
Radisson RED is creating new rules. And it starts at hello. The lobby is artistic, energetic, exciting and welcoming. Guest Studios are designed by inspiration, not a corporate template. Everything we do is engineered to be as fresh thinking and smart as our guests. From the style-conscious and locally inspired OUIBar + KTCHN to multifunctional zones to work, rest and play. RED has sociable spaces powered by free WiFi, relevant music and unique art.
NO RULES, NO BOUNDARIES
RED took off in 2016 with the first hotels in Minneapolis and Brussels, both centrally located, steps away from the hustle and bustle as well as trendy digs for night hawks. Watch for Glasgow and Cape Town openings ahead and plans for 60 RED's in 60 cities by 2020.